Polish Easter Food is delightful and sadly most of the Polish Easter dishes we get to eat only once a year. We start our Easter celebration with Easter breakfast, but let's be honest – we eat all day long!
Easter is the most important holiday in the Catholic Church, and after a long period of lent, we feel like celebrating it in a big way! In the list below, I included the dishes that you can find in my family and friends homes that still follow Polish Easter traditions religiously.
What do Polish eat for Easter?
Although Polish Easter Food is regional, I came up with the list of 20 different dishes that we prepare across the country in this joyful time of the year.
1. Biała kiełbasa – Polish white sausage
Polish white sausage is filled with pork meat and seasoned with salt, garlic, pepper and marjoram. For Polish Easter breakfast we cook or bake the sausage and serve it with the fermented rye soup Żurek or with a horseradish.
2. Żurek – Fermented Rye Soup
Fermented Rye Soup is famous in East Europe, but traditionally in Poland, it contains soured rye flour and a lot of meat. In ma family, we add pork sausage, bacon, mashed potatoes and hard-boiled egg. Because of its popularity, the soup is available all year round.
3. Zupa Chrzanowa
Żurek is not the only famous soup that Poles eat for Easter. In some regions, Poles prepare a soup with horseradish. Horseradish makes people cry, and therefore it is a symbol of overcoming the pain of Christ's passion. Chrzanówka/Chrzanica has many regional variations and is particularly popular in the Polish mountains where is called chrzonica.
4. Pisanki – Polish Easter Eggs
Making Polish Easter eggs is the most beloved Polish tradition. The egg symbolises new life, and we share it during Easter breakfast along with the wishes. There are plenty of ways to decorate the eggs, but in my family, the most popular was to boil the egg in the onion peels (which gave them a brown colour) and then to scratch the pattern on the surface by using a sharp tool.
In my family, we prepared Easter eggs on Friday and Saturday. The Friday eggs were meant for the Easter basket and eaten on Sunday. The Saturday eggs were ready for the Wet Monday. Now please pay attention, because this is hilarious! On Wet Monday young gentleman would pour the water on the girls to ensure that they remain beautiful. Many different tools came to use that day – water pistoles, water baskets but even firefighters (mainly when you lived in a village). For the "pouring" they received Easter egg, or additionally chocolate. On this day, my brother could enjoy the whole bag of eggs and sweets, and I sat there wet. Sounds like a fun, right?
Coming back to Polish Easter eggs please check an article Discover the World of Pisanki if you would like to know more about other ways of making them. https://culture.pl/en/article/discover-the-world-of-pisanki-or-polish-easter-eggs.
5. Jajka faszerowane – Stuffed eggs
Stuffed eggs are another beloved Polish Easter Food. Eggs are filled with different fillings, although in my family, we loved the mushroom one the most! Polish people got very creative when it's about stuffed eggs. I have seen stuffed eggs filled with horseradish-beetroot relish, spinach, smoked salmon and recently even avocado.
6. Ćwikła z chrzanem – Horseradish-beetroot relish
Horseradish-beetroot relish appears on every Easter or Christmas table, and it is a perfect side for home-made ham and bread. This spread is made of very finely shredded, cooked beetroots and seasoned very heavily with horseradish. The relish has a lovely dark red colour and spicy taste.
7. Wielkanocna szynka w cieście – Ham in Dough
After the long period of lent every Pole cannot wait to eat as much meat as possible! Baked ham is one of the most popular meat cuts that Poles prepare for Easter. In this variation, the previously cooked ham is covered with shortcrust pastry and baked in the oven. The pork can be served hot or cold and goes well with horseradish sauce or Tatar sauce. The recipe comes from the province of Wielkopolska.
8. Pieczeń rzymska – Meatloaf with egg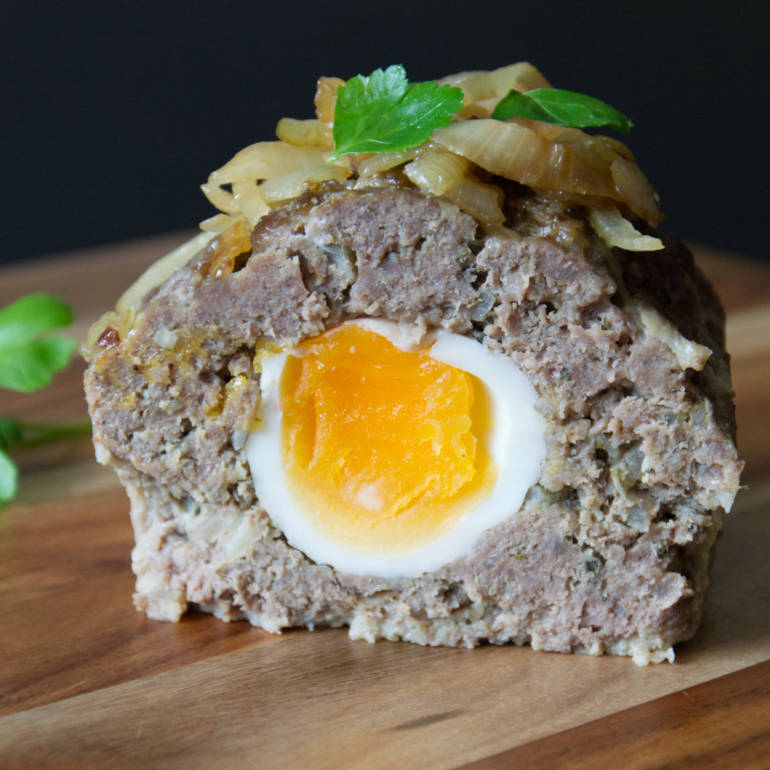 The dish made of freshly ground pork filled with a hard-boiled egg. Before backing the meat is seasoned with garlic, horseradish, marjoram and mustard. Usually served with mash potatoes or directly on the slice of bread. Isn't Polish Easter food truly delicious?
9. Schab ze śliwka – Prune-Stuffed Pork Loin
There is no more significant celebration without baked pork chop with plum: weddings, Christmas, Easter as well as birthday. Any reason is a good reason to prepare it! Similar to the meatloaf, pork chop makes perfect dinner roast or a sandwich topping.
10. Sos tatarski – Tartare sauce
What would be all those delectable meats without the sauces, right? The sauce is an excellent addition to any roasted meat. This particular sauce goes perfectly with ham, fish and egg. Since we eat a lot of eggs during Easter, the sauce is a crucial element of the Polish Easter food. The sauce is p across the globe, and therefore the recipes vary. In Poland, we make it usually with pickles, onions and marinated mushrooms.
11. Sos chrzanowy – Horseradish sauce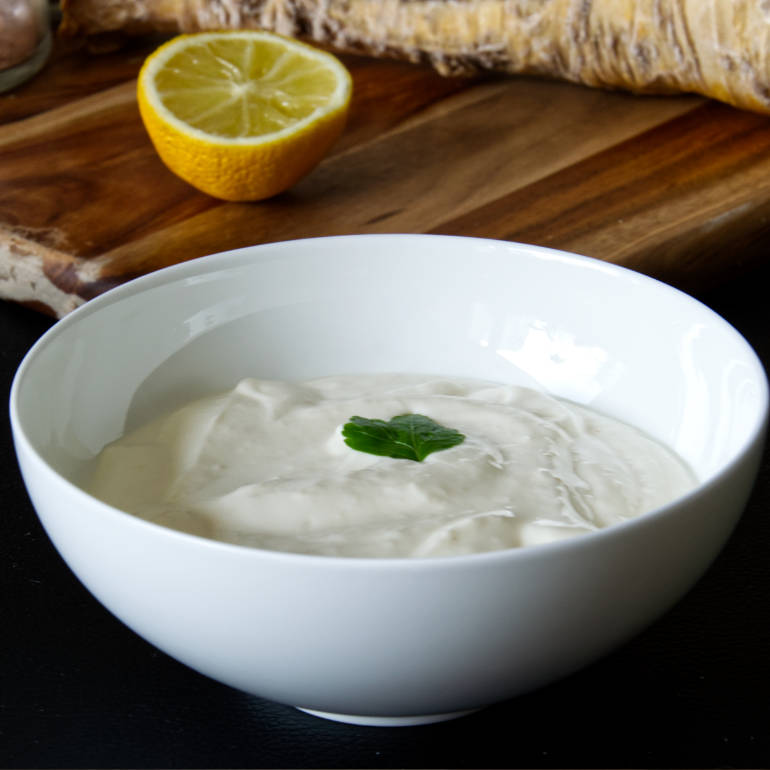 Last sauce I would love to mention on this list is the horseradish sauce. During Easter, Poles serve horseradish sauce cold with white sausage, eggs or home-made meats.
12. Śledź – Herring
I can assure you that there are no Polish holidays without herring! The most popular variation of herring is the one marinated in oil and vinegar. It is a beloved Polish Easter food, as well as Christmas food. For more Polish herring variations check out the blog about 30 Polish dishes to try in your trip to Poland.
13. Mięso w galarecie – Aspic
Aspic has been know since the Middle Ages, and it is not going anywhere yet. This particular starter is beloved among Polas, and it often appears on the tables during celebrations, including Polish Easter.
14. Mazurek – Shortcrust pastry baked for Easteropular
Mazurek is one of my favourite cakes of all, and that is because I am a massive fan of shortcrust pastry (this butter, right?). Mazurek consists of a thin layer of pastry and different kind of toppings. The creativity of the bakers knows no boundaries here. But whatever they make – it always looks terrific. For my Mazurek I usually use a spread called kajmak which is similar to dulce de leche and decorate it with dried fruits and nuts.
15. Babka – Polish Bundt cake
Polish Easter Bundt cake is made of dough similar to a sponge and served with powdered sugar or icing on the top. For baking the cake, we use a special bundt-style pan that ensures its shape.
16. Baranek Wielkanocny – Easter lamb cake
For Easter lamb cake we usually use the same batter as for the Easter bundt cake. But as the name suggests – the cake is baked in the form of the lamb shape.
17. Pasztet Wielkanocny – Pate
In my family, we always make pate from scratch! The loaf includes previously cooked and then grounded different kind of meats, veggies and a bit of liver. The liver is a must in my pate because it gives it this particular taste. To make the pate fluffy I also add some soaked in a water bread roll and before backing I season the grounded meat with allspice, pepper, bay leave and nutmeg. Pate goes well with lingonberry jam on the side, but I also like dipping it in all the sauces previously mentioned!
18. Pascha Wielkanocna – Easter dessert made from curd cheese
Pascha has Russian origins and is a perfect alternative to high calories cakes and pastries eaten during Easter season. In contains curd cheese, butter, eggs, sour cream, raisin, almonds, vanilla, spiced and candied fruits. It is prepared in a mould what gives it pyramid shape. We keep it in the fridge for at least 12 hours, before serving. if you would like to prepare Traditional Polish Pascha for Easter, here is the best recipe I know of Traditional Polish Pascha Recipe.
19. Sałatka jarzynowa – Vegetable salad
What I am going to describe right now is the most popular Polish salad of all: Vegetable salad. This particular salad is unique because of its main ingredients – cooked vegetables. For the dish, we use mainly potatoes, carrots, polish sour cucumber, eggs, celery root, fresh onion, parsley root, green pea. It has mayo dressing and includes a lot of parsley.
20. Makowiec – Poppy seed cake
Polish poppy seed cakes with their different forms and shapes have one thing in common: a mixture of poppy seeds, sugar and dried fruits.I know it in a loaf or strudel form. The cake is made of yeast dough and covered with a layer of poppy seed mixture and icing.
I hope that this article gave you an insight of what Poles eat for Easter and inspire you to cook some of those Polish Easter Food. If you are looking for traditional Polish recipes I would love to encourage you to check out our cooking blog – Cooking the World.
For more information about Traditional Polish food go to 30 Traditional Polish Dishes to try in Poland.