Ultimate Guide to Traditional Polish Food
Tart, rich and satisfying – those are the three words I would use to describe Polish cuisine. Polish food I will be introducing you to is the one from my childhood. Those specialities will always have a special place in my heart, and I hope that this guide will help you to choose the right dishes to try on your trip to Poland.
Eating habits in Poland
Our family used to prepare and eat food at home. At the time when I grow up (90ties), dining out was not that common. People simply couldn't afford it. Don't get me wrong – we would have a meal at a quick-service restaurant (like milk bar) or get take-away. But that was really it. This is important for you to know when looking for traditional Polish places to dine in. However I am sure that every bigger Polish city has long-established restaurants – you just need to make an effort to find them!
Traditionally in Poland, we would eat 3 times a day. Lunch was hot, and usually, the biggest meal of the day and consisted of one course. At home, the only time we got to eat two courses was on Sunday, when my grandmother prepared Rosół, clear chicken noodle soup, as a starter. That was one of the reasons why we loved Sundays so much. Over the course of time, working hours have changed and many of us stopped following the tradition of eating the biggest meal of the day in the afternoon.
I divided this article about polish food into the following categories: soups and starters, main courses and desserts. The list of the dishes below are popular in all parts of Poland, so you shouldn't have problems with finding them. I will keep my fingers crossed for you!
30 Polish Dishes to try in Poland
1. Rosół – Clear chicken broth with homemade noodles
Rosół is a clear chicken broth served with some vegetables and homemade noodles. I still remember how my grandmother was cutting the noodles with her favourite knife for this soup. She would cook the noodles first, place them in the soup plate and then she would reheat the broth. She did not care so much about noodles getting cold. The extremely hot broth heated them up immediately. Traditionally we would eat rosół during celebrations, for example, weddings.
2. Zupa pomidorowa – Tomato soup
Polish tomato soup is a broth-based soup with a velvety texture. The soup contains tomato puree, vegetables and cream. With the addition of rice or noodles makes a perfect main meal for the whole family. I remember noodle soup being one of the meals that my grandmother prepared on a weekday. Her tomato soup was so thick, that nowadays it could have been called risotto. No wonder why we were never hungry after eating the whole bowl of it!
3. Zupa ogórkowa – Sour cucumber soup
For Polish cucumber soup, we usually use meat broth, Polish sour cucumbers, soup vegetables and potatoes. The version of the soup that my grandmother cooked was heavily creamed. I hope that the one you find will also be!
The special ingredient of the soup is sour Polish cucumber that on the contrary to pickled cucumber, ages in salted water. Other why to call it is cucumber in brine. Sour cucumbers have a pretty tart, but still delicate taste. Dill completes the dish perfectly!
As the sour cucumber soup contains potatoes, it was usually served as a main meal.
4. Grochówka – Split pea soup
When talking about Polish food we cannot forget about one of the oldest Polish soup – Grochówka. This particular soup contains broth, split peas (yellow), potatoes and sausage or bacon. Although it is a favourite dish in Poland, I have never seen it on the menu in the restaurant, but hope dies last. The soup is thick and rich in flavour, often served as a main meal.
5. Zupa szczawiowa – Sorrel soup
At my home sorrel soup was made in May, when we picked the sorrel from grasslands. While travelling in Poland, I have realised that the soup is also popular not only in different parts of Poland but also all year round. The soup contains very few ingredients: broth, sorrel, cream, and some spices. The soup is served hot with a hard-boiled egg.
6. Barszcz – Beetroot soup
Beetroot soup is a tart soup that is common in Eastern Europe and Northern Asia, but is also considered as Polish food! The soup has a beautiful dark red colour. I would advise you to be careful when eating it. The last thing you want on your journey is beetroot stains that look like bloodstains!
Beetroot soup – variations
Barszcz z uszkami – Clear beetroot soup with dumplings

This particular beetroot soup is made from fermented beetroot juice and usually served for Christmas Eve. However, the best ingredient of the soup are Uszka (Ears) – homemade ear-shaped dumplings filled with delicious mushroom-onion filling.
Barszcz ukraiński – Borscht
This is the main meal variation of all beetroot soups available in Poland. The main ingredients of the soup are meat stock, shredded beetroot and cubed potatoes. This variation is a hearty one-pot meal, that is served as a main course.
Chłodnik litewski – Cold borscht – Beet green soup
Chłodnik is a cold soup that you can enjoy from late May until July. It contains beet greens, sour cream, boiled eggs, cucumber and dill. Sometimes also chives and radish are added.
7. Kapuśniak – Cabbage soup
The main ingredient of Polish cabbage soup is evidently cabbage. To make this soup usually we use sauerkraut and vegetables. But be careful! This doesn't make the soup vegetarian. It is common to use flavourful pork stock as a base. Please be aware that there are regional variations of this dish; therefore, the taste of the soup might differ.
8. Żurek – Polish sour rye soup
This thick and delicious soup has a tart taste, and it is heavily spiced with garlic and marjoram. At least when my mother makes it! The soup has a white colour and contains all goodies: smoked bacon and boiled sausage, as well as mashed potatoes (Silesian variation), or cubed potatoes, boiled eggs (in Podlasie province) or both (in my family). This hearty dish is usually served as a main meal.
9. Flaki – Beef tripe soup
Pay attention now! This might be the weirdest thing you can try in Poland!
Flaki or flaczki is a polish soup that contains clear broth, carrots and thin stripes of beef tripe (beef stomach) . Beef tripe has a particular texture, and not everybody is fond of it. But if you are adventured like me, you will put it on your To-Try list! It might be an unforgettable experience, you don't want to miss that! The soup is usually seasoned with salt, bay leave and marjoram.
10. Krupnik – Barley soup
Krupnik is another thick soup that is served as a main meal. To make it, we use vegetable or meat broth, potatoes and barley. The soup might also contain soup vegetables like carrots, parsley, leek, and celery as well as onion, meat, and dried mushrooms.
11. Fasolka po Bretońsku – Breton beans
Polish version of Breton beans is made of dried beans that are soaked overnight and simmered until tender. The soup is tomato-based and has a thick consistency. It contains smoked bacon and sausage. In my family, it was served as a main meal with bread on the side. The most used seasoning in this soup is marjoram. The first version of the soup was probably Cocos de Paimpol which is French Bean dish. It is not savoury-sweet, like the English baked beans, so you better put it on your To-Try list!
12. Śledź – Herring
Herring is of the most beloved examples of Polish food. There are no birthday celebrations, Christmas & Easter dinners without it. And because it is so precious – there are plenty of ways to eat herring. Below you will find the most traditional once.
Herring in oil (Śledź w oleju ) – soft herring with a delicate taste, goes well with sour cucumber and shot of vodka
Herring in vinegar (Śledź w occie) – soft herring with a rich and tart flavour, prepared with onion rings
Herring in sour cream (Śledź w śmietanie) – delicate herring served with sour cream
Kashubian Herring (Śledź po Kaszubsku) – soft herring marinated in oil, onion and tomato puree
Rolmops – pickled herring fillets stuffed with onion and pickled cucumber
13. Blood sausage
This particular sausages are stuffed with cooked or dried blood. In Poland, there are several variations on blood sausage.
Kaszanka
Kaszanka is a variation of blood sausage, well known in Central and East Europe. The sausage contains pig's blood, liver, lungs skin and/or fat and kasha (buckwheat). Mashed potatoes and onions complete the kaszanka perfectly.
Bułczanka (Żymlok)
Bułczanka is a variation of blood sausage, popular in Silesia. The sausage instead of buckwheat contains wheat bread roll (bułka (Polish), żymła (Silesian) – bread roll)
14. Krokiety – Breaded pancakes with different fillings
Polish croquettes are thin, large pancakes stuffed with different ingredients. The extraordinary taste come naturally from the filling and pan-frying.
Krokiety z mięsem – Croquettes with meat
In this variation for the stuffing, we use cooked with soup vegetables pork or beef as well as bay leave and allspice. The filling is a grind and seasoned with salt, pepper and marjoram.
Krokiety z kapustą i grzybami – Croquettes with sauerkraut and dried mushrooms
In this variation, the filling contains sauerkraut cooked together with dried mushrooms as well as onions, bay leave and allspice.
15. Pierogi – Dumplings
Pierogi is, without a doubt, the most popular polish dish. Pierogi make a great starter (usually in restaurants) or main meal (when cooked at home). The most famous polish dumplings consist of simple dough (warm water and flour) and filled with different kinds of fillings (savoury and sweet). The salty version of the dumplings has fried onions and butter on the top and sour cream on the side (depending on filling). For the sweet version, we typically use sour cream. The most common variations are:
Pierogi ruskie – dumplings filled with mashed potatoes mixed with quark and fried onions. My mother used to add lard to give it a hearty flavour. Heavily dressed in sour cream!
Pierogi z kapustą i grzybami – dumplings filled with cooked sauerkraut, dried mushrooms and onions.
Pierogi z mięsem – dumplings filled with cooked soup vegetables with cooked pork or beef as well as bay leave and allspice
Pierogi z jagodami – dumplings filled with blueberries (sweet)
Pierogi z kaczką – dumplings filled with duck meat (inspiration from other cuisines)
Meat Pierogi recipe
Pierogi ruskie recipe
16. Gołąbki – Cabbage rolls
Gołąbki is a dish that contains a variety of fillings that are wrapped in cooked cabbage leaves. The dumplings are simmered and served hot with or without tomato sauce. The most common are the following fillings:
Gołąbki z mięsem – cabbage leaves filled with rice, ground meat and onion
Cabbage leaves filled with rice, dried mushrooms and onions, usually served on the Christmas Eve.
17. Placki ziemniaczane – Potato Pancakes
Perfect Polish potato pancakes are crispy from outside and soft from inside. Heaven in mouth, especially, when served with plenty sour cream on the side. To give the pancakes extra flavour, my grandmother uses to fry them in lard. Amen.
18. Zapiekanka – Polish Open-Faced Sandwich
Polish Open-Faced sandwich was a part of every night out. I will be honest with you – the most zapiekanki I had eaten when I was still a student. The recipe is straightforward: you need a half of a baguette, mushroom spread and cheese. The sandwich is served hot with ketchup or mayo, additionally also chives or fried onions on the top. Exactly what you need after drinking.
19. Placek po Węgiersku / Placek zbójnicki – Potato pancake with Goulash
Placek po Węgiersku is the Sunday edition of potato pancakes. The dish contains large potato pancake filled with goulash or sour cream or both. The plate is popular in the South of Poland, especially Polish highlands.
20. Pyzy z Różyca (Warsaw) / Kluski czorne (Silesia) – Raw Potato Dumplings
This particular type of potato dumplings is made with cooked as well as raw potatoes. In Warsaw, you can get pyzy at Market Rożyckiego. They are served in a jar with the right amount of lard. In Silesia, you can sometimes get them as a side dish with the stuffed beef roll and cabbage. That depends on the restaurant, though.
21. Befsztyk tatarski – Steak Tartare
Steak Tartare had been brought to Central Europe (Hamburg) by Russians already in the 17th century. However, eating raw meat has been popular for longer than this. You can find steak tartare in many European cuisines; however, the ingredients that accompany the meat might differ. In Poland, it is common to serve raw meat with diced onions, pickled cucumber, egg yolk, salt, and a lemon wedge.
22. Bigos – Hunter's stew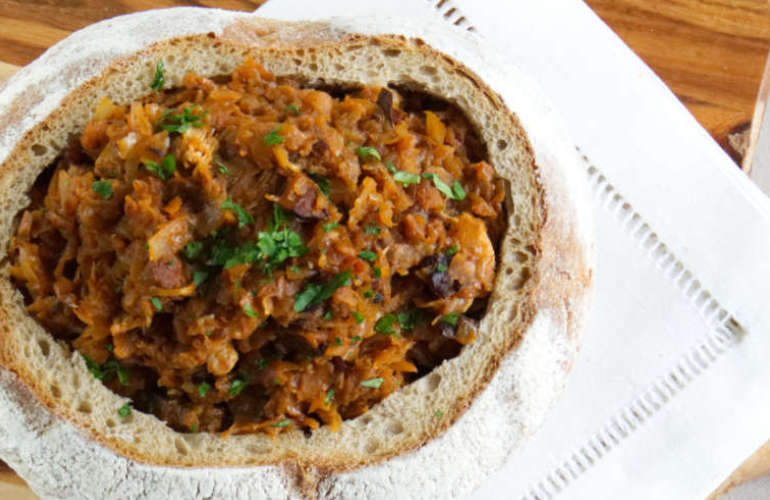 Bigos is one of the most significant dishes that come from Poland. It even became traditional in other East European countries. The main ingredient is cabbage (sauerkraut as well as fresh cabbage) and different kinds of meat. In my family, we used to make bigos with chopped bacon, sausage and pork. My mother fried the meat ingredients separately – for extra roasting flavour. Bigos is often served also with onions and mushrooms and seasoned with salt, black peppercorns, allspice, juniper berries and bay leaves. To balance the sourness, my mother added sugar or plum butter.
23. Kotlet de volaille – Chicken Kiev
For me, Chicken Kiev is always a highlight of every trip to Poland. It is made of pounded chicken fillet filled with butter (often seasoned with fresh dill) or cheese, coated and pan-fried. Although the dish originated in the Russian Empire, we treat it as our own.
24. Kotlet schabowy z Mizerią – Breaded pork loin with Polish cucumber salad
Breaded pork loin is an exceptionally tender and crispy piece of meat served with boiled potatoes and Polish cucumber salad. To give the extraordinary meat flavour, my grandmother fried it in lard (surprise, surprise!). The signature of the dish isn't the meat, though. For me, it is the Polish cucumber salad. In my family, we made it with shredded fresh cucumbers, sour cream, a bit of white vinegar, sugar, salt and pepper. Some prepare it with thinly sliced cucumbers, and instead of sour cream, they use cream, yoghurt, fermented or soured milk. Every family has its own mizeria recipe. Mizeria is often seasoned with dill.
25. Kotlet mielony – Meatballs
Are you a fan of meatballs? In Poland, we prepare minced meat cutlet with onion, eggs and bread crumbs. The usual side dish for Polish meatballs would be mashed potatoes and shredded beets (explained below).
26. Buraczki – Beetroot
Beetroot is one of the most popular side dishes in Poland. There are plenty of ways to eat beetroot as aside, the most common are sautéed and hot or pickled and cold.
Ćwikła z chrzanem – holiday edition of shredded pickled beetroot mixed with horseradish
27. Rolada Śląska z kluskami i modrą kapustą
When I was a child, the beef roll was the most festive dish I knew. Served with homemade potato dumplings and red cabbage, made perfect Sunday meal for the whole family (at least in Silesia). I am not sure if you can find beef rolls in all parts of Poland – however, in Silesia, it can be found on every menu.
28. Pączki – Polish doughnuts
Polish pączki are deep-fried pieces of dough filled with confiture or another sweet filling. Pączki can be either covered with powdered sugar, icing, glaze and dried orange zest. Although pączki seem to be fluffy, they collapse after the first bite. Polish pączki taste different as doughnuts that you can buy in other countries. So you better put them on your Polish food To-Try list.
29. Racuchy – Polish pancakes
I know – the first thing what you thought of when looking at the picture was – American pancakes. I am afraid that American pancakes and Polish racuchy don't have much in common. In Poland, we like adding sliced fresh apples to the dough, before frying them in oil what gives them an extraordinary taste. Traditionally racuchy are sprinkled with caster sugar, but I prefer to use powdered sugar instead. This way, they don't crunch while chewing. If you order them, they will be one of those Polish food that you won't forget. Ever.
30. Oscypek – Smoked cheese from the Tatra Mountains
Oscypek is salted sheep milk cheese that can be produced exclusively in the Tatra Mountains. The cheese needs to contain 60% of sheep's milk, must weight between 60 and 80g and measure between 17cm and 23cm. The only time when you can enjoy Polish Oscypek is between April and the beginning of October. If you would like to know a little more about this particular cheese, please visit: How to buy Polish Oscypek.
Is this the complete list of Polish food that you can try on your trip to Poland? Not at all! But I hope that I gave you some insight into Polish cuisine.
I wish you a lovely stay in Poland and as always safe travels and happy eats! Please let me know if there is any more Polish food that you have discovered and what you liked the most!
Did you like our tips? Pin this post to your Pinterest Board to come back to it later – ULTIMATE GUIDE TO POLISH FOOD.